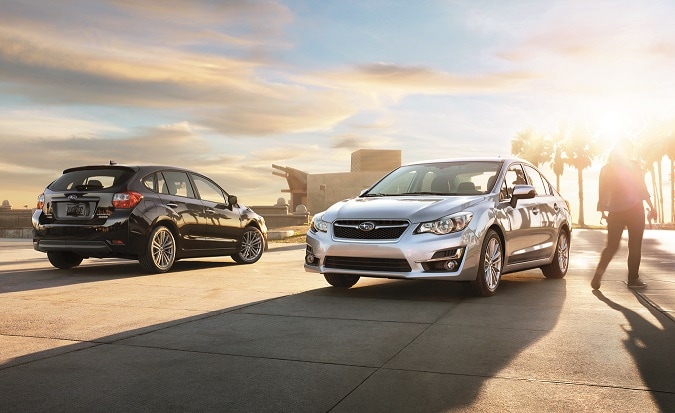 Compare Compact Sedans, and See the Subaru Impreza Go Toe-to-Toe With Competition from Toyota, Nissan, and Honda
While prices are pretty even across the board for comparable compact sedans in Bedford, Cleveland, Beachwood, Maple Heights, and Solon, OH, three stand out above the rest: the Subaru Impreza, Toyota Corolla, Nissan Sentra, and Honda Civic. And if you're searching for a family-friendly--and budget-friendly--option for your next vehicle, you've likely come across one of these three.
We're here to help you choose the best fit for your individual needs. Explore specs, price, features, performance, and more in the three of the country's top small sedans.
Subaru Impreza vs. Toyota Corolla Sedan
Though the Corolla may edge the Impreza out on price, the Impreza offers a better all-around value for performance: only Subaru's sedan offers standard All-Wheel Drive; that's not even an option on the Toyota car
The Impreza's efficient 2.0-liter four-cylinder creates more horsepower and more torque than the Corolla's meager 1.8-liter engine, but still manages to boast near-identical fuel economy estimates in both city and highway
While the Subaru Impreza offers a five-door hatchback option, along with a variety of affordable and well-equipped trim levels, the Toyota Corolla falls flat with a mere four doors--and no more
Subaru Impreza vs. Honda Civic Sedan
These two sedans are near neck-and-neck in terms of price and performance--but when it comes to value, Subaru's standard Symmetrical All-Wheel Drive and available hatchback body style take the lead once again
The 6-speed CVT in the Impreza offers a smoother, easier performance on the road then the seemingly sluggish 2-speed CVT in the Civic
Want the very best? Of course you do! You can enjoy a fully-loaded Subaru Impreza for thousands less than similarly-equipped Honda Civic. Get more performance, more options, and more sporty fun for your money
Subaru Impreza vs. Nissan Sentra
The Subaru Impreza offers more standard horsepower than the underpowered Sentra
Though the sedans' dimensions are similar, the Impreza does give you more passenger volume for increased comfort on longer drives
Both of these models have received high marks for safety, but with mere front-wheel drive and fewer available safety systems, the Sentra isn't as family-friendly as the Impreza
Symmetrical All-Wheel Drive comes standard on the Subaru Impreza--one of the few compact sedans to offer it


Compare the New Subaru Impreza to Your Own Hefty Standards
To compare the new Impreza to other Subaru models, explore the new vehicle lineup online, or come to Ganley Subaru of Bedford to see all of our new models for yourself. Take a drive, and experience why the Subaru brand holds so strong against the competition.