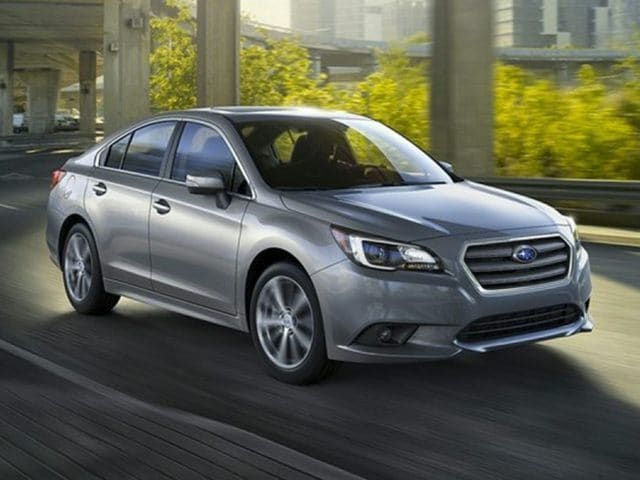 Can the Legendary Subaru Legacy in Bedford Stand Up to Midsize Sedan Competition from Honda, Nissan, and Toyota?
We sure think so. Because, with a strong heritage of performance, safety, and style, the Subaru Legacy offers a great value that the competition is hard-pressed to beat. For all of us in Bedford, Cleveland, Beachwood, Maple Heights, and Hudson OH who want the versatile amenity of a midize sedan, without compromising on affordable cost or high quality, three cars tend to spring to mind first.
Compare the Subaru Impreza to Toyota Camry, Nissan Altima, and Honda Accord to see how each measures up in categories like power and performance, comfort and convenience, and value and price. Want to know more about in-depth specs? Contact Ganley Subaru of Bedford.
Subaru Legacy vs. Toyota Camry
With near-identical pricing for entry-level and similarly-equipped models, MSRP isn't going to be what makes the call for you between these two models; however, the standard All-Wheel Drive on the Subaru Legacy might--you won't find capability like that in the Camry
The Camry and Legacy are also deadlocked when it comes to performance: two 2.0-liter engines output nearly identical horsepower and torque numbers--however, the Legacy pulls ahead when it comes to fuel economy, offering better both city and highway
And there's always the extras: the Subaru Legacy offers more standard and available features than the Camry by trim level. It's a great value on a great car, pure and simple
Subaru Legacy vs. Honda Accord
Comparably-equipped Accord models can squeeze past the Legacy in terms of affordable pricing--but when you account for the standard All-Wheel-Drive system in Subaru's midsize sedan, could you ever really call the Accord "comparable"?
Like staying toast on chilly mornings? With more standard features on lower-level models like de-icers and heated mirrors, the Subaru Legacy lets you enjoy the nice things in life for less
The Subaru Legacy boast better crash test ratings than the Honda Accord, giving you better safety and security over every mile; and, with a host of available safety technology features, the Legacy can be equipped for ultimate security
Subaru Legacy vs. Nissan Altima
Symmetrical All-Wheel Drive comes standard in the Legacy--FWD is standard in the Altima, and AWD isn't even an available option
With class-leading passenger space, the Legacy offers more front and rear shoulder room for your comfort
Like keeping your passengers happy? The Legacy also offers more rear leg room
With standard features like rearview camera, STARLINK infotainment, and more, the Legacy is a great value for Bedford drivers who want it all--can the Nissan Altima say the same?


Is the Subaru Legacy a Good Match for You? Let's Find Out!
Check out the new Legacy today in person, at Ganley Subaru of Bedford. We can show you just how this well-equipped and comfortable midsize sedan has managed to fend off the competition and stay on top of the sedan market. You can even compare to other Subaru models, like the Impreza sedan or hatchback, or the iconic Subaru Outback to find the vehicle that will work best for you.